April 1990 - Cure News #9

curenews 9
april 1990
hello,
thanks for all your letters. i'm sorry it's been so long since the last edition of curenews. to make up for the delay, this edition is double the normal size! i know the "prayer tour" seems like it was a million years ago now, but just to remind you how brilliant it was i've printed a couple of reviews of the tour. special thanks to everyone who wrote to me about the tour.
i'm sure you all wish to join me in congratulating Simon and Carol on the birth of their son, Eden, on sunday 18 March, ahhh...
a lot of you have asked how many people write to the information service - currently cure news is sent out to 2,500 people, but this number is growing rapidly. as a consequence of this, i'm afraid i am unable to handle individual enquiries. if there is something you desperately need to know, i'll do my best to inform you through cure news.

have a happy summer
love janie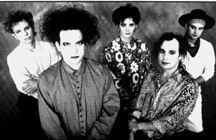 questions and answers curenews 9
(all answers by robert)
before and during "the prayer tour" in europe you described yourself as "counting the days until the end". you seemed loath to play in the usa and kept being quoted as terribly impatient to be finished with the tour. did you really hate it so much - if so, why? did you feel different about it by the end - if so, why and how? if not, why?
as i have said on and on through the years (more and more insistently as they go by) touring, apart from the time on stage (including the time on stage) can be very fun but (sometimes and at the same time) completely and utterly exhausting. i enjoyed "the prayer tour" both european and american more than any other tour i can remember (!), but it still wore me out into a wreck - this was (as usual) my own fault - ever determined to excess - so things i might say in the slough of the morning in an on-bout interview are not at their sparkliest. the concerts were largely brilliant and i can still see...so i would do it all over again!
speaking of "loath to play the usa" why do you hate america and americans so much? what did the usa ever do to upset you so much?
i don't really like a lot of america - only due to the people in lifts and foyers, garages and bars, and driving past sweating in cars, etc, etc, - but i do like the americans who talk without shouting, smile without saying "have a nice day", and don't stare like we're men from mars. americans like us? it's just a question of scale... my dislike of the glossy and brash has been stretched out of context. i don't hate americans: there!
what have you been up to sence returning from the usa?
we've made a video in scotland for "pictures of you"; recorded a cover version of "hello i love you" by the doors for electra records 40th anniversary album, had a few "cure weekends", and won a foolish award. and other things like starting thinking about what next...
what was the best and worst moment on the usa stretch of "the prayer tour"? the worst was getting off the boat in new york at 8am to be greeted by the "press" - the best was going to disneyland (again?)
did you enjoy the mtv awards? did you meet the other artists and what were they like? i thought the mtv awards were ok - i sat in the car park with simon drinking beer in the sun. i think we said hello to paula abdul dancers...
is it true that you collapsed on stage in bordeaux and couldn't continue with the show? what was wrong with you?
we played a shortened set in reims in france as porl, roger and i were attacked by sickness in the afternoon and vomited all night.
do you keep in touch with any bands that have supported you in the past?
i still keep in touch with "and also the trees" and billy mackenzie of "the associates" - and i got on well this time with the "sugarcubes" and "the mission"!!!
there are several rumours that you will be playing one-off benefit gigs soon in london and paris - are these true?
no. but i think we will play this year somewhere.
did you have any of "the prayer tour" videoed?
only for home entertainment unfortunately - but we did record quiet a few nights audially for future use...
what are your predictions for the future of the band?
i never predict!!!
where and when were the live versions of "homesick" and "untitled" recorded, that appear on the b side of the usa single "lullaby"?
wembley arena, july '89
what, in your opinion, is the best video you've ever made?
"inbetween days" for it's life, "just like heaven" for it's look, "pictures of you" for it's laughter.
on "staring at the sea" there's a clip of you whispering something to lol, then covering your mouth - as if you shouldn't have said it - what did you say?
something i shouldn't have said? i can't imagine!
why didn't parched art do the artwork for the "love song" single?
because i liked maya's painting and thought it would fit.
would you allow stock, aitken and waterman to produce one of your singles?
no, because saw production is samey, boring shit!
who is / was "mr.pink eyes"?
me some mornings.
what is the worst habits of each member of the band?
boris takes at least 5 hours to get ready in the morning.
roger talks constantly.
porl always plays everything as loud as possible. and
simon never takes off his boots. these are facts.
when will your solo album be released, and do you still plan to call it "music for dreams"?
i really am not sure about what happens next...but some of the solo stuff may creep into a cure project: "music for dreams" is one of them...
are you still planning to release a video of the singles since "staring at the sea" and do you still plan to cal it "when you never come back"?
a video will be compiled by me and tim pap of all the "kiss me" and "disintegration" clips with other bits of junk thrown in too - but it's title is not yet decided.
were you surprised that the cure didn't feature in the bbc's three hour review of the eighties on new year's eve?
no! it's called prejudice (we have made too many enemies!)
who was you favorite band of the eighties?
echo and the bunnymen
what did you do on christmas eve, christmas day and new year's eve?
i spent christmas eve singing and preparing for christmas day, when i cooked dinner for 13 assorted family... i remember up until about midnight..on new year's eve i went to a party early on with Mary and my mum and dad, and later out with simon and carol and a few other people too...i think we went for a very long walk somewhere...
what did you get for christmas?
books, drinks, and an alice in wonderland chess set.
did you make any new year resolutions - what are they and have you kept them so far?
i gave up meat again.
phil thornalley said he'd rather tour with "Johnny hates jazz" than the cure, do you think he's gone mad?
no - that was the problem with phil!
did you meet porl because he was going out with janet, or did janet meet porl because he was in the band?
i think janet knew porl anyway.
have you seen steve severin recently, and do you think you'll ever work with him again?
i received some letters recently - and i think we will meet again before long...but "the glove" hmmmm....
if you were in another of today's groups, which would it be?
"my bloody valentine"
did you dine at the captain's table on the qe2?
no!
do you feel that you are out of touch with reality being in the band?
it has nothing to de with being in a band (if anything i think i am in a group because i am out of touch with reality...what?...reality?...)
how often do you see the others when you are not working?
quiet regularly - every couple of weeks or so for a few days usually.
why didn't you play "love song" on the prayer tour?
we did, lots of times!
why did you use The Chiffons "sweet talkin' guy" for the playout on "the cure in orange" video?
i think it was irony.
who is the strangest cure fan you've ever met, and why?
a) there is no such thing as a strange cure fan (?)
b) they are all strangest.
both these are true (?)
what is the most outrageous stunt a fan has pulled in an attempt to meet you?
a bunch of people arrived backstage in america in a stretch limo - they had got through security claiming to be us! but we saw the funny side, etc...etc...
do you feel that you understand why people are so fascinated by the cure's music? some fans seem to have difficulty answering this question - have you ever thought about it?
this is not an answerable question. fascination can rarely be explained in words.
according to a group of cure fans, they have discovered that most of them have some strong similarities - often sharing some unhappy personal experiences - the same unhappy experiences - and have some similar personality traits - so you feel that there is a certain type of person - or a person who has been through certain things - that is particularly drawn to the cure? if so, why?
i think certain themes of despair, ageing, distrust, disgust, hopelessness, anger etc. resonate more deeply the more deeply someone has experienced. a lot of what we do is mirroring.
do you miss lol, do you regret sacking him?
no!
do you know what lol's been up to?
he's currently recording demos with michael dempsey and an old help of our's, Gary Biddles, with a view to being a proper group?...or something...
do you write poetry? if yes, what about?
if i ever write anything poetic i keep it for songs.
has there been anything said about you in the press that has really hurt you?
no.
were you aware that morrissey said he'd like to "pop" you, and that "the cure add a new dimension to the word crap"? - what's your response?
i'd love to see him try! (and at least we've only added a new dimension to crap, not built a career out of it!)
do you feel that life's running away from you, while you're living in the future (or past)?
it has always been a struggle not to live in the world of "what's next" - and unfortunately my life is running away...
what were you like at school concerning your
a) grades?
b) popularity?

a) i got 10 "o" levels and 2 "a" levels.
b) i played football, but in strange cloths - my popularity fluctuated...
what has been the best day of your life, so far?
getting married.
what do you like most and least about your:
a) personality?
b) physical attractiveness?
a) most - temper, least - sloth.
b) most - eyes, least - eyes.
assuming they exist, what would be your vision of:
a) heaven?
b) hell?
a) a feeling of completeness.
b) a feeling of incompleteness.
what do you hate most in the world?
bigotry.
if you could change the world and make it a better place what would you do?
this task dwarfs me. sorry. there are too many horrors.
if you could run into the future or past, which way would you run., and why?
the future - because it is unknowable.

did Mary buy you the ring you wear?
yes.
where do you buy your polka dot shirts from?
a girl in london made them for me.
where do you go when you want to be alone, and what do you do when you're there?
i go to the sea and just stare.
inspirations - Pornography
the songs on "pornography" were written either "stream of consciousness" ("streams of extreme drunkenness"!) style on an old typewriter in my bedroom at home in crawley, or on torn scraps of yellow paper on hallucinating early mornings walking through and around horrible bits of london in cold december 1982. they range from acutely personal observations on my immediate surroundings and friends, to general rants against the futility of everything and everyone, to back to the horrors going on inside... it is very difficult to explain the songs, as even within each verse of any one, there are several layers of (logically) unconnected ideas. but i will colour...
100 years - is pure self loathing and worthlessness, and contains probably the key line - the line that underpinned this period of writing: "it doesn't matter if we all die"...everything is empty. this song is despair
a short team effect - is about a drug and it's effect. short-term i thought.
the hanging garden - is something like about the purity and hate of animals fucking, and i think
siamese twins is about the hate and purity of people fucking too...
the figurehead - was a grotesque skull sculpture i discovered in the disused asylum we used in the "charlotte sometimes" video. i took it home to talk to - to confess to? and this song is about guilt.
a strange day - was how i would feel if it would only be the end of the world - and...

cold - is another song about another drug and it's grip...
pornography, the last song, and in fact the last song i wrote for a while, is fueled by the same self-mockery, self-hate, that burned in 100 years, but it is, if only very slightly, a little more hopeful than the others... i am escaping (i escaped) by blaming someone else. a murder or suicide? "i must fight this sickness..."
"pornography", an album that almost chokes on itself, remains a dairy of one of my blackest times. but it's one of my favourites!!!!
robert

reviews of "the prayer tour"
stockholm isstadion - 2 may 1989
the 2nd of may last year, thousands of swedish cure fans gather at the "isstadion" to see and hear the greatest band ever. after having queued for 2 1/2 hours we could finally run in and take our place's about five feet from the stage. we noticed a boy carrying a teddy bear. the special guests, shelleyan orphan had a bit of trouble with the sound, so we couldn't tell weather they were good or not. their performance lasted for 45 minutes - 1 hour, and at last; there were the cure! since the album had been released only four days earlier everybody had slight problems with following the songs (especially the words), but no one could be mistaken by the introduction of "plainsong". the claustrophobic cure-universe filled the entire hall. it was brilliant! they played almost all the songs from "disintegration", except for "lovesong". kyoto song, a forest, charlotte sometimes, cold, the walk... all of it was fabulous! in the middle of the concert all of us began to sing "happy birthday" and the boy with theteddy bear threw his gift at robert. the birthday child (well, nearly) himself seemed to be a bit touched and quiet confused and murmured "thank you". the rest of the concert passed without any other interruptions. we all had a wonderful time. after having played "disintegration" they left. however, they were soon back and gave us a handful of bittersweet classics, such as "three imaginary boys" and "boys don't cry". they went out again, only to come back in, with the words "we forgot something - lullaby!" and they played loads of the old, well known songs and we wished it would never end. but it did. they returned for a third time and finished this great show with "untitled". it was the most perfect night of my life.
glasgow sec 18 july 1989
from the first sound of stark guitar i felt my childish heart begin to grow; almost to bursting point. i seemed to be alone in a huge bubble of unbelievably intense emotion that floated high above the crowd. "plainsong" swelled around me, magical and almost perfect in the hot sticky darkness. the music swelled, numbing, scratching the walls of humanity, until the walls were bleeding. i taste it like a child tastes honey, with a sickly, strange delight. my face bathed in a cold clean light that reflected on the tears now rolling from my eyes. tears of joy at the uncluttered rendition of "inbetween days", that suffocated me, detailing my every breath then dropping me into a guilt ridden pit of selfishness that wea to become "charlotte sometimes" - making me fall, over and over and over again. the highly unexpected "love cats", the sheer lunacy and glorious charm of "everybody wants to be a cat" that then plunged me into the majestic darkness of "a forest", the strains of robert's shuffle in luminous light that played just around his mouth, smearing the red from yesterday's game. the jokes between songs, communication with the audience made it all so perfectly human. and, of course, the haunting notes of a long since past "homesick" and the slowly but painless until i caught a last glimpse of robert's face as he bid us all goodnight. and for a moment it fired a spark of that lost naivety and i began to wonder, just who are these blokes anyway? then i remembered..just "the cure".
ann wilson