October 1991 - Cure News #11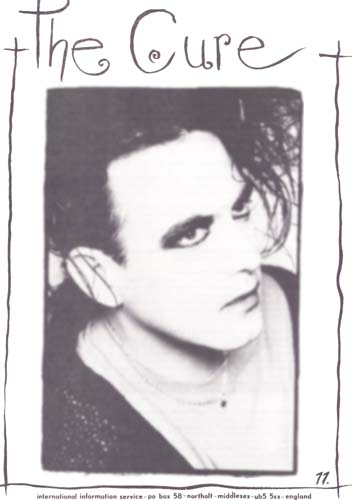 hello
at long last i'm back....this issue has taken so long to put together, because so much has happened, and there's so much to tell you... firstly, thank you all for sending in your comments and suggestions, together with your names and addresses, which i now have on file - so if anything specific is happening in your area i'll attempt to let you know in advance. as you will notice in this issue i've implemented some of your suggestions already. it took a long time to read through all your comments - i really appreciate all your support and encouragement. thank you. here are the answers to the questions you asked most frequently:
can we ask other members of the band questions?
yes. send them in to me now for inclusion next time.
why don't you include any contributions from fans, such as illustrations, letters, quizzes or puzzles?
if you want to make a contribution to 'cure news' please send it in. i can't promise to include it, as space is obviously limited, but i will try. this is just for fun ... no prizes i'm afraid!
why isn't 'cure news' more frequent?
whilst i attempt to put an issue together every 6 months, it's often very difficult. it takes up to 6 months to receive your responses and questions - another few weeks to get them together and get them answered. then i have to type everything, get it printed and mailed out. i run the information service in my spare time (yes - i also have a full-time job)!
why don't you charge a subscription?
it was decided when the international information service was established that the service would be free (with the exception of postage costs) to all cure fans. because this service is free the style is simple and informal - but hopefully this makes it a more intimate service. a subscription charge would be extremely time-consuming and difficult to administer, with so many international members. indeed, the majority of subscription charging fan clubs are run as a profit making business - this is definitely not what the cure wanted.
how did you get to be the person to run the international information service? i have been a cure fan since the early eighties and when the previous fan club was dissolved i called fiction and asked if i could set up a new one - they agreed so here i am! that was in 1986. if i knew then what i know now!! - at the time there were just over 400 members, now there's over 3000! i run the service from home.
why don't you personally reply to letters anymore? because of the sheer volume of mail i now receive it's impossible to write personal replies - but i do actually read ever single letter i receive.
how can we actually contact the band?
only very special requests can be dealt with, and, in exceptional circumstances, i can arrange to forward items. do not send any correspondence to fiction. i am sure you'll agree that the band's time is better taken up writing, recording and touring than wading through fan mail!!
so what's been happening since the last issue of cure news?:
on january 17 'five imaginary boys' played at the town and country club 2 in london. it was truly a brillian texperience. (everyone who responded quickly with their name and address from the last issue was informed of the secret gig in advance). it was great to meet so many of you there. we were treated to an exceptional performance, including four new songs (see 'reviews' for more details). the evening was filmed by the bbc for later broadcast on snub tv. unfortunately not a lot of the footage was aired ... but, thankfully, it will be available soon ...
on january 19 the cure headlined the saturday night of the 'great british music weekend' at the wembley arena. tickets were like gold dust - i very nearly didn't get in myself (thanks teddy for saving the day ...). the show was faultless - possibly the best atmosphere i've ever experienced and despite the set being only just over 1 hour it was a perfect night. again the event was filmed by the bbc ...
on wednesday 23 january the cure were the house band on the 'jonathon ross show', performing 'harold and joe', and 'hello, i love you', together with several instrumental snippets inbetween acts! the show was a great deal of fun ...
on thursday 24 january it was off to the limelight studios in wembley to record 'unplugged' for mtv. featuring a totally acoustic set, the event was arranged at very short notice. with an audience of only about 100 invited guests (mostly mtv employees!!) it was like the cure playing in your living room. 'unplugged' was broadcast on mtv a few weeks later (i had to buy a satellite dish just to ensure i didn't miss it!!!)...
on sunday 10 february the annual brits awards were held. the cure received three nominations; best british band, best music video (for 'close to me' (remix) - the category they won last year with 'lullaby') and best male vocalist. the cure performed 'never enough' live on the night (and were probably the only band performing on the night that were capable of playing live!) having performed roger daltry announced: "when i was asked to present this award, i had visions that i could be presenting it to a sampler and a drum machine. but as it happens, the winner is 'the cure' ". the british record industry finally recognised the fact that the cure are the best british band - (but we knew that anyway....)
following their success at the brits, the cure went into the studio for a few weeks to demo.
from l september they've been recording 'somewhere in england' for real... details of all planned releases will be revealed next time...
release wise - here's what's been happening:

entreat (catalogue number fixlp 17/fixcs 17/fixcd 17) was eventually released on 25 march as a mid price album, as a result of pressure from fans who were unable to get a limited edition special purchase copy of the cassette or cd last year. the happy compromise reached is that all royalties from the sale of entreat were given to various charities. (see 'questions').
an interesting version of entreat was released on cd in japan, approximately 9000 units were pressed - it included a 32 page booklet with lots of great pictures, the cure's biography (at least i presume it's a biography - i'm not too hot on reading japanese!). the cd is not widely available, but it's definitely worth a look at.
in france two limited edition packages (on cd only) were put together. approximately 10000 units of each were distributed world wide. if you haven't got them yet it's unlikely that you'll find them in store now.
the first assemblage (catalogue number 5111242) contained the first 12 cure cd's in slip case style packaging, featuring the original album artwork. they were packaged with a 60 page full colour booklet, featuring many rare and previously unpublished pictures, together with a full biography (in french) all held together in a very pretty box. it really is a wonderful set.
the second package was a 5 picture cd set of mixed up, (catalogue number 8675295) presented in an album sized package, with circles cut in the cover to reveal the discs, the design on which, when positioned correctly, fitted in to reveal 'the cure' in gold squiggles.
also released in france was 'a forest (tree mix)' b/w 'inbetween days (shiver mix)' (on 7" vinyl and cassette). the original version of 'a forest' was added to the 12" vinyl and cd single versions. a limited edition of the cd, featuring exclusive artwork, was produced as a promotional item, and given away with purchases of back catalogue cure cd's.
the glove album blue sunshine was eventually released on cd by polygram in europe and rough trade in the usa. the format featured an additional three tracks that didn't appear on the album and cassette version ('mouth to mouth', 'tight rope' and 'like an animal - 12" mix').
july 8 saw the long awaited release of 'picture show', the video compilation that takes over where 'staring at the sea' left off. the following week in the uk it topped the music video chart and was at number 2 in the general video chart.
the 1992 official calendar is now available. distributed by danilo it's really worth getting hold of - in my opinion the best calendar yet, with lots of beautiful pictures. - do make sure you buy the official calendar, i know there are others available, but as usual with unlicensed product, the quality is inferior, and most of the pictures are very old.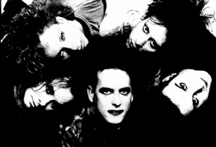 and now to the future ...
in november another video will be released. entitled 'playout' it will contain lots of exciting and exclusive footage from the past year or so. the programme with run for approximately 120 minutes and will feature all the footage you thought you'd never be able to see (t&c2, jonathon ross, great british music weekend, the brits, unplugged, together with lots of backstage stuff).
disintegration is shortly to be published in music book form, by music sales. hopefully standing on a beach will be available in the not too distant future too ...

perhaps the most exciting news is the imminent tour, scheduled dates so far are:
early may east to west coast - usa
june(ish) australia/new zealand
july west to east coast - usa
september europe
i will attempt to inform you of the actual tour dates, but, as i've already explained, it's often impossible to get them to you before the press - so - keep reading your local music press for details.
i hope to be back early next year with lots of news. write to me now with your questions/suggestions/contributions/reviews/curefriends or anything else!!! until next time, happy christmas!
love janie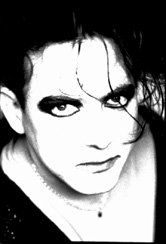 questions and answers cure news 11
(all answers by ROBERT)
what have you and the rest of the band been up to over the past few months?
writing and 'demoing' new songs, reading, talking, gardening, drinking and playing games - but mainly writing and demoing new songs!
how is the new album coming along? when are you aiming to release it and what is the working title?
we have 33 new songs - we started recording for real on september 1st and hopefully will have finished 2 new albums by christams. one is a singing album currently called 'wish', the other will be an instrumental maybe called '(music of) dreams'.
will 'letter to elise', 'the big hand', 'away' and 'wendy time' be released as an ep, as has been suggested in the press? if not, will these tracks appear on the new album?
i don't think the ep idea will now be realised - but i think these 4 songs will probably get released one way or another...
which band member (s) came up with the basic ideas for the 4 new songs?
'elise' and 'the big hand' - me
wendy time' and 'away' - Simon
do you plan to release any other singles prior to the release of the album?
I'm not sure.
is it possible that mtv's 'unplugged' will ever be available as a video release?
we are to release another video (probably called 'playout') featuring some of the mtv footage along with t&c2 footage, wenbley great british music weekend, jonathan ross and the 'brits' stuff, welded together with lots of backstage fun!
did you enjoy performing on the jonathan ross show?
it was ok - quiet funny i suppose.
will there be another cure fm?
yes, i hope so - probably a new year's eveish one...
is it true that you will play in australia next year, following a petition you received signed by 35,000 australian fans?
it looks almost certain!
without committing yourself to another world tour or anything, are there places the cure have done concerts that you think you might one day like to play again, or places the cure have never been that you would've wanted to do a show? where?
it also looks almost certain that we will be playing concerts in mexico, america, canada and europe - and maybe russia...next year...
which charities did the proceeds from 'entreat' go to?
mencap, ms society, amnesty international, cot death research, leukaemia research fund, spastics society, dr hadwen trust, nspcc, imperial cancer reserch fund, rni blind.
why did you add the quote of jules renard "look for the ridiculous in everything and you will find it" on 'mixed up' ?
to pre-empt the inevitable criticisms - it is also pretty true!
in a recent interview about 'mixed up' you said you there were three or four songs you wouldn't mess with as they are personal favourites. what are they and why?
'faith', '17 seconds', 'figurehead', 'the same deep water as you' are four songs that immediately spring to mind. by 'mess' i think i meant 're-define'...

did you enjoy playing at the great british music weekend, and what did you think of the rest of the line up?
i thought it was one of our best performances, albeit brief - i loved it. 'ride' were the only other group on the whole weekend that i would pay to see...
how did you feel about winning the brit award for best british band? did you know in advance that you'd won?
we only got to know earlier that afternoon, and it was received with a mixture of the pleasure of winning with the cynicism of knowing it meant nothing at all!!!

did you personally think that 'never enough' should have been nominated for the best promo award, instead of 'close to me'?
yes.
were you pleased with the praise that you received from Roger Daltry when he presented you with the award?
we all thought his sentiments admirable.
why did you not include lol when you thanked all the other ex members of the band?
because he did nothing worthy of thanks and i despise him!
where is the award now?
we all got a copy of it - no-one is really sure who has the original one!...or cares?!!
what's the truth behind the story of the near fight you had with lead singer of 'EMF' at the brit awards?
i merely asked him to explain and defend certain disparaging remarks his group had made about us in the press - he explained and apologised - i smiled, we shook hands...nothing else...
what is your honest unbiased opinion of 'presence' and what did you think of 'in wonder' / 'all i see'?
'presence' would be better without tolhurst - he does nothing except pose ridiculously and look ugly - but even without him they would be at best mediocre.

have you considered turning up to see 'presence' at one of their recent dates?
we had the misfortune of experiencing a small part of their 'show' at the marquee in june - simon and i decided we should inform tolhurst of his uselessness at first hand - so we did.

will you ever talk to Gary Biddles again after all the vicious thing's he's said about you?
i just feel sorry for him - i think he is getting a bit desperate.

do you get fed up with people harping on about lol, and does this strengthen your dislike of him?
the only thing that bugs me is him continually harping on about us in interviews because his own group is so dull - he even has to put 'ex-cure' on the adverts for their shows!
have any other members of the band ever sung backing vocals?
Michael sang a few on 'killing an arab', and lead vocal on 'foxy lady'.
will you ever perform 'hello, i love you' live?
i doubt it. we don't really like 'the doors'.
who are 'harold and joe'?
creatures in simon's mind!
do you intentionally sound like lloyd cole on 'harold and joe'?
it's supposed to be frank sinatra!!!
what is the largest audience you have ever played to?
75,000 at dodgers stadium in los angeles, 1989. i think!
would you consider playing small warm up gigs in the future?
yes, almost certainly.
would you ever consider playing in south africa?
not yet.
has there ever been a real fight between members of the band?
only between simon and me.
what do you think of john eddy's cover of 'inbetween days' on 'rubaiyat'?
absolutely hideous!
in retrospect, is there any one video you would like to change, and perhaps re-shoot?
'catch': i'd leave the coalman violinist out of it. and 'charlotte sometimes': i'd leave the girl out of it.
do you ever read the curefriends section of 'cure news'. what do you think of all these die hard fans who write in to advertise themselves?
sometimes i read them - it could be a good way to make new friends...
how many unoffical cure fanzines are you aware of, and how do you rate them?
i get a few, and am constantly surprised at how earnest they are...
what is the most absurd stunt a fan has pulled to get back stage?
in america last time, a few people hired a limo and drove straight into the backstage area claiming to be 'the band'!!! unfortunately we had already arrived!
were you surprised at the number of entries you received in the melody maker top 10 poll for 1990?
yes - and pleased.
what did you think about being voted 4th most sexy male in the melody maker 1990 poll?
i laughed!
who is the most sensible member of the band, and why?
i don't think there is a sensible member in the cure.
what is your favourite cure album cover?
i like the 'kiss me' cover for it's disgust, and the 'standing on a beach' cover for his look.
why didn't parched art do the artwork for 'mixed up'?
'parched art' only exists when porl and undy work together: undy did mixed up' with me and maya.
what is your favourite track on 'blue sunshine'?
'blues in drag' and 'perfect murder'.
do you, or any of the band, do impersonations?
yes. hundreds. but mainly of each other. and of Bruno!
do you / did you like marc bolan?
i liked his early singles in t.rex but i hate and hated his image.
what do you think of the following bands: happy mondays, jesus jones, rem, james, stone roses, depeche, b52's?
happy mondays - one excellent album for that mood...
jesus jones-conceited and bland rem-too clever, but i like some of their tunesjames-beige and uninspired
stone roses-over-rated
depeche mode-formularized
b52's-what??!!
in the past you've listed david lynch's film 'eraserhead' as being one of your favorites. did you watch 'twin peaks' and what did you think of it?
i started watching 'twin peaks', but like a lot of people, lost interest by about episode 5. boris tells me it was a good last bit tho'...
who are your favourite film directors?
stanley kubrick, nic roeg, werner herzog, ridley scott, francis coppola, terry gilliam, david lynch, steven spielberg and tim pope!
do you think that you...and the 'robert smith' that so many people feel they know personally...are the same person? or does one almost have to live two separate lives to be as worshipped worldwide as you are?
there are definitely two of me. one quiet, one loud...
do you ever with you could be just another mr smith - just a regular, unknown sort of guy?
i often am.
does it sadden you at the extent to which people are obsessed by you?
it sometimes scares me...
do fans ever seek your advise on personal problems, and if so, do you assist them?
they do - but i rarely have answers.
have any fans managed to track down your house yet?
yes. and when the bell goes in the middle of the night i scream.
have you ever written a fan letter to someone? if so, who?
i wrote to spike milligan when i was 10 years old, and he sent me a photo!
what do you think is the most beautiful a) sound, b) sight, c) smell in the world?
a) the sea, b) space, c) vanilla.
what is your most sacred possession?
My ring.
how did you celebrate your 32nd birthday
i went for an indian!!! went for a walk. and drank.
what would you describe as a perfect day?
one that didn't end
what's your favourite joke at the moment?
the solicitors letter from tolhurst!!!
what is your favourite poem?
'do not go gentle into that good night' by dylan thomas.
which literary quote sums up life for you?
there are 3:
"oh well, no matter what happens, there's always death" - napoleon
"we cannot put off living until we are ready" - jose ortega y gasset
"nothing is worth more than this day"-goethe.
what is the most romantic thing you have ever done?
kissed in the rain.
have you been to disneyland? if so, which ride would you recommend?
i would recommend all the rides to anyone - but particularly peter pan, haunted house, space mountain, the matterhorn, but, best of all space mountain!
do you play any board games?
yes - balderdash, scrabble, pictionary and chess.
which year of your life has been the best so far, and why?
this year. because i am excited again.
what's your favourite childhood memory?
sitting on blackpool beach looking at the sea.
what makes you really angry?
ignorance, bigotry, intolerance, smugness, waste.
what do you think of the british police force?
i am not answering this?
how often and how much are you drinking at the moment?
i am on the wagon (nearly!).
have you ever seriously contemplated killing
a) yourself
b) anyone else (who?)
c) lol?!
a) yes, b) yes, c) yes.
is there any subject you absolutely refuse to answer questions on?
Not really - if i don't like the question i just lie in the answer!
is there one question that you wish people would stop asking you?
why are you so late!!!
curenews 11 - inspirations
this time i've included all the tracks that had been missed out of previous issues, up to, and including 'the head on the door'.
The Head On The Door
inbetween days
about trio's - days, people, places, ages ...
kyoto song
a night spent on someone's floor - steve severin's i think ...
the blood
about a portuguese drink called 'the tears of christ'. i drank a bottle and this came out.
six different ways
multiple personalities.
push
a train journey home.
the baby screams
trying to make a dream real.
close to me
the disappointment of dreams made real.
a night like this
this is what 'plastic passion' originally sounded like. the words were written in the rain. i was upset ...
screw
drugs.
sinking
despair at getting older and less true.
killing an arab
it was a short poetic attempt at condensing my impression of the key moments in 'l'entranger' (the outsider) by albert camus.
boys don't cry
an attempt at a sixties pop song.
plastic passion
alliteration - this song started out as a pastiche of the very early ('pyjamarama') roxy music style.
jumping someone else's train
about fashion. particularly about the 'mod' revival of the time (1978/79).
i'm cold
a pre-cure song. again, an attempt at style rather than content. it is unconvincing.
world war
a nonsense.
do the hansa
another nonsense.
pillbox tales
- and another.
heroin face
- and another - none of these four songs have any real meaning.
charlotte sometimes
inspired by the eponymous book by penelope farmer.
splintered in her head
- see 'charlotte'.
new day
a drug induced improvisation.
the exploding boy
excess (and lack of understanding).

a few hours after this
about a party i went to.
a man inside my mouth
the other me ... a dream he had ... i hope it was a dream!
stop dead
meeting my match.
reviews
five imaginary boys live at the tc2!!!
at 10 o'clock the band wandered casually onto the small stage, as the obligatory dry ice filled the small club. "this is a new song called 'the big hand'", mumbled the spiky haired singer. the music had a dreamy atmosphere without sounding wimpy, in fact i was rather uplifted by the whole spectacle. as they continued with such titles as 'pictures of you', 'a letter'. '1,2,3,4' and 'dressing up' it began to dawn on me that the songs were strangely familiar, i'd heard them all before. after a one and a half hour set the singer announced they were going to take a short break, but her certainly didn't mean they were about to split up!! after leaving the stage for five minutes the band promptly returned launching into a devastating 'strange day'. it was in the next few minutes i suddenly realised that along with heaven existing on earth, five imaginary boys were in fact the cure!!! everything now made sense, the spiky haircuts, the remarkable resemblance of the singer to robert smith, the touts selling tickets for £100 (sic). all of it. even the tv cameras swarming around the tiny stage like flies to a light bulb. if people thought the mesmerising 'disintegration' was set to end it all they were gladly mistaken as the band returned once more, launching into 'three imaginary boys', 'boys don't cry', '10.15 saturday night' and 'killing an arab'. ironically the greatest concert of my life (so far) was on the same day that the gulf war started, thursday 17 january, and i felt fine.
andrew whitfield
**********

birth of 'son of cure fm'
after continuous fights with the aerial of my radio, i found something that vaguely resembled a signal. the hour seemed dead as hopelessness floundered, but i could not give up. with the volume up as high as possible i could just hear the odd song or two. after an hour of this, i had had enough. i felt so useless and disappointed, knowing that somewhere out there robert and the others were hitting the airwaves - so why not mine? as i slowly walked away from the radio, the resounding voice of robert struck a blow. the birth of 'son of cure fm' had made the air!!! i was quick to discover that members of the cure were actually answering the phone! at that moment nothing else seemed apparent - i just had to get through. but my continuous efforts failed hopelessly. the message from the band was to keep trying because they only had one phone line - and so i carried on. i found my hand fixed to the phone and unable to move with the shock of discovering simon on the other end. unable to speak, i left the talking to simon, who tried very hard to convince me that he was robert's secretary! the night continued with heavy flow of calls and questions for each member of the band. inbetween time a various selection of songs were played as chosen by the cure. special guest tim pope was also there, and naturally one of his songs had to be played; 'drive you round the bend' - indeed it did! after which moving swiftly into a cure song; 'inbetween days'. it was at that moment that the silence of the sleeping house struck me. how i longed to turn up the volume and dance. if only i could have let the ecstasy escape from within me, but was this possible at six minutes to two in the morning! shortly after 2am came the urgent news bulletin that simon was making a lot of new friends due to the phone-in. the message was to keep phoning - i'm sure everyone tried! this was followed by a short and informative weather report by porl!! by 2.15 the end was drawing near, already running over time, and perhaps time to say goodbye? i think anyone but the cure would have by this time, but despite being exhausted the demand seemed too great for them to stop now. it was obvious that time pope had had enough, and it was time for him to leave. a quick goodbye to 'q102' and he was gone. one last joke from simon and one more track from 'mixed up', 2.55am and time to close down. far too much happened that night to ever be put into words, and i'm sure that everyone enjoyed it just as much as i did. perhaps one day it can all be relived again, because this is not the end. thank you robert (and the rest of the band!) for 'q102', and please let it happen again.
tracey
**********
cure : son of fm
what a brilliant idea, did you hear it? i didn't find it till about 12.30am, but what i did hear was really hilarious (and i've now got the bootleg tapes and enjoyed the whole show). also they set up a phone line and as soon as i heard that simon was manning the phone i had to try and speak to him. i got through after about 25 minutes of constant dialling, and it was certainly worth the effort, we chatted for about 10 minutes! i wouldn't like to repeat the whole conversation, but we got on really well, he is so easy to talk to and we both have the same accent (very common!). we talked about babies (he's so thrilled about eden), concerts, the cure in peckham (i don't care what they say, they were there, colin and i saw them and the tour bus!). the funniest part was when i asked simon if he'd seen my letter to steve sutherland, printed in mm 20.7.1990, about him and steve at glastonbury. the letter accompanied a huge photo of simon and was labelled 'sex god gallup'. simon said 'oh, was that you? well, you're the only one in the world who thinks that, i'm going to go away and cry now!' aah. we said goodbye, but i couldn't resist ringing back later on and we talked again, we were interrupted by a familiar voice, yes, it was robert! i was not prepared for that and didn't manage to say any of the things i always thought i would say to him, but at least i managed to speak to him. he said he'd 'come downstairs to see how simon was'. i did ask him to play some concerts soon, and we chatted until robert said 'simon's batting his eyelashes at me, he wants me to put you back on!' simon asked me how i was feeling after that! bless him, he didn't realise that i was just as thrilled to be speaking to him, in fact, i wouldn't have dared to phone up robert, i just knew that simon would be welcoming and he was. i haven't mentioned the music, of course it was excellent, and the jokes were hilarious. thanks boys. please do it again soon (but make sure we know about it first!).
jean, new cross.
**********
cure fm from the us
the place - washington, dc. the time 10.30am, that's right friends, in the morning! the station - 99.1 whfs. i had flipped on the radio when the dj came on talking about being in england with the cure during a notorious cure fm taping. needless to say, i turned the volume up, morning or not. it began with a peculiar little song i can't place and them robert's voice filled the airwaves introducing porl 'i've got nothing to say' thompson as the specialist weatherman. strange sounds in the background, robert asking callers to keep trying the one line phone, questions about shoes, when the cure will play again, when the cure will come to america again (the million dollar question), discussions on why 'mixed up' was created (who really knows?!), and a great non-cure song called 'another girl, another planet'. ending the segment robert gave betty, (a listener) a kiss on air from all members of the band. lucky girl. oh! by the way, simon, did you really make a lot of new friends?
lara satino