July 1987 - Bebopalula (Italy)* (Translation below)
ARTICLE - The Cure (3 pages)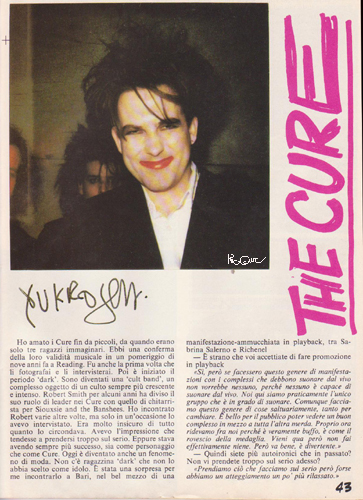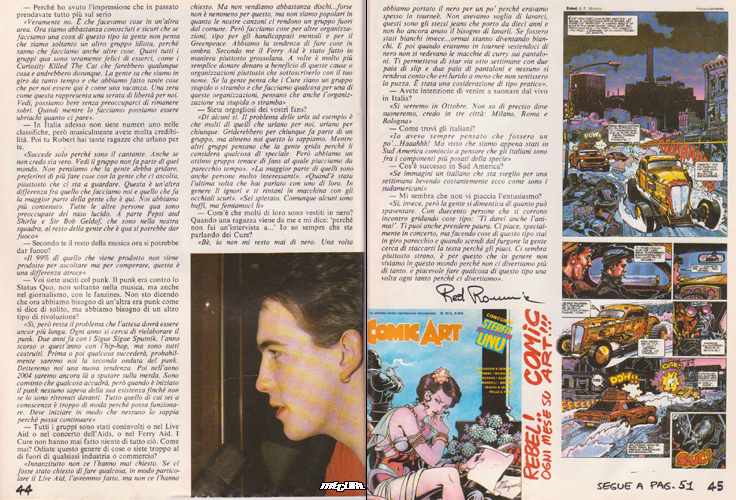 ARTICLE FROM THE FANZINE BEBOPALULA, JULY 1987 (by Red Ronnie)
I'VE BEEN LOVING THE CURE SINCE THEY WERE YOUNG GUYS, SINCE THEY WERE ONLY THREE IMAGINARY BOYS. THEIR MUSICAL LEVEL WAS CONFIRMED TO ME DURING AN AFTERNOON IN READING 9 YEARS AGO.
THIS WAS ALSO THE FIRST TIME I TOOK PICTURES TO THEM AND HAD AN INTERVIEW. AFTER THIS, THE "DARK" MOVEMENT STARTED. THEY BECAME A "CULT BAND", A BAND MORE AND MORE LOVED. ROBERT SMITH FOR SEVERAL YEARS HAS BEEN THE LEADER OF THE CURE AND THE GUITARIST FOR SIOUXSIE AND THE BANSHEES. I MET HIM SEVERAL TIMES, BUT I HAD AN INTERVIEW WITH HIM ONLY ONCE. HE WAS SO UNSECURE TO EVERYTHING. I HAD THE IMPRESSION HE TENDED TO TAKE HIMSELF TOO SERIOUSLY. BUT HE STARTED TO HAVE MORE SUCCESS, WHETER AS A CHARACTER THAN AS A CURE MEMBER. TODAY IS A "VIP" TOO. THERE ISN'T A "DARK" GIRL WHO DOESN'T HAVE HIM AS AN IDOL. IT WAS A SURPRISE FOR ME TO MEET HIM IN BARI, IN THE MIDDLE OF A PLAYBACK SHOW, AMONG SABRINA SALERNO AND RICHENEL.
- ISN'T IT STRANGE THIS DECISION TO PARTICIPATE IN A PLAYBACK SHOW…?
"Yes, but if they'd do this kind of shows with groups obliged to play live, nobody would come, because nobody can play live. Here we are the only ones able to play live. Anyway we do this things occasionally, just to change. It's good for the audience to see a good group among all this shit. Just some minutes ago we were smiling, because this is really funny, it's like being on the other side. You come here but you really don't do anything. But it's okay, it's funny."
- SO HAVE YOU MORE SELF-IRONY THAN BEFORE? YOU DON'T TAKE YOURSELF TOO SERIOUSLY NOW?
"We take what we're doing seriously, but maybe we have a more relaxed behaviour".
- YES, BECAUSE I HAVE HAD THE IMPRESSION YOU TOOK EVERYTHING TOO SERIOUSLY IN THE PAST
"Honestly, no. It's only that we made some different things in another area. We are known now and we're sure that if we do this kind of things people don't think we are just another stupid group, because everybody knows we also make other things. Almost every band is happy to be here, like Curiosity Killed The Cat, which would like to do everything and to go everywhere. People know we have been around for so long and we made so many things, and being here is like having an holiday. A night like this is like a free night for us. See, we can drink without any problem to remain sober. So, when we're doing this show, we could be drunk as we want."
- IN ITALY NOW YOU'RE NOT ON THE TOP TEN, BUT MUSICALLY YOU HAVE A GOOD REPUTATION. AND YOU, ROBERT, HAVE A LOT OF GIRLS CRYING FOR YOU.
"This happens only because I'm the singer. Even if I don't think this is true. You see, the group is not a part of that world. We don't think people have to scream, I'd prefer to do something with people listening, not watching. This is another difference between what we are doing and what is doing the main part of the groups here. We have more contents. The other people here are worried about their shiny noses. Apart Pepsi and Shirley and Sir Bob Geldof, who are from our team, the rest of the people could be burnt".
- IN YOUR OPINION, THE REST OF THE MUSIC COULD BE BURNT NOW?
"The 99% of the productions aren't made for listening, but for selling, and this is a awful difference."
- YOU CAME OUT WITH THE PUNK. PUNK WAS AGAINST THE STATUS QUO, NOT ONLY IN MUSIC, BUT ALSO IN JOURNALISM, WITH THE FANZINES. I'M NOT SAYING WE NEED NOW ANOTHER PUNK ERA, BUT DO WE NEED ANOTHER TYPE OF REVOLUTION?
" Yes, but the problems is that the wait will be longer. Every year they try to renew the punk movement. Two years ago with the Sigue Sigue Sputnik, last year or this year with the hip-hop, but they're all constructed movements. Sooner or later something will happen, probably we will be the second punk-wave. We will dictate the new movement. Then, in 2004 we still will be here to spit out on the shit. I'm sure something will happen, but when the punk started nobody knew about that until they had it in front. Everything you know is too fashionable to work. It had to start secretly to work well".
- EVERY GROUP WAS INVOLVED IN LIVE AID OR IN THE AIDS CONCERT, OR IN FERRY AID. THE CURE NEVER MADE SOMETHING LIKE THIS. WHY? DO YOU HATE THIS KIND OF THINGS OR ARE YOU TOO FAR FROM THIS KIND OF BUSINESS?
"First of all, nobody has never asked us to do that. If they would have asked for this, especially the Live Aid, we could have done it, but they didn't. But we don't sell enough records….maybe it's not this the problem, but we're not popular because our songs make us an outsider group. Anyway we make a lot of things for some organizations, like for handicapped people or for Greenpeace. We tend to do things in the darkness. In my opinion Ferry Aid was made in a rough way. Sometimes is easier to give money for these things than subscrive it with your name. If people think that the Cure are a stupid or strange group and makes something for these organizations, they also think these organizations are stupid or strange."
- ARE YOU PROUD OF YOUR FANS?
" I'm proud of someone. The problem about people screaming, for example, is that many of the ones screaming for us would scream for everyone. They'd like to scream for every group, but fortunately we know this. While other bands thinks people are screaming because they consider them something special. Anyway we have a wonderful, strong fan-group who has been loving us for a long time" "The main part of them is really interesting". "I can't remember the last time I spoke with someone. Generally you ignore them and run into the car with the black sunglasses on". " You're ruthless. Anyway someone is weird, but let's stop here".
- WHY MOST OF THEM ARE DRESSED IN BLACK? WHEN A GIRL COMES TO ME AND SAYS: "WHY DON'T YOU HAVE AN INTERVIEW WITH…" I ALWAYS KNOW SHE'S TALKING ABOUT THE CURE?
" Well, I never dress in black. Once we have dressed in black for some time because we were always in tournee. We didn't want to wash, these are the same jeans I have been wearing for 10 years and I haven't felt the needs to wash them. If they were white…..now they're turning into white. And then when we were in tournee and dressed in black, you couldn't see the spots of curry on the pants. You could be away from home for 8 weeks with 2 pair of underwear and 2 pair of trousers and nobody thought you were dirty until they smelled your stink. It was a common sense matter."
- ARE YOU GOING TO PLAY IN ITALY?
" Yes, we're coming in October. I don't know precisely when we're playing, I think in 3 cities: Milan, Rome and Bologna."
- WHAT ABOUT ITALIAN PEOPLE?
" I've always thought they were a little……..Haaaaaahhhh! But since we have been in South America I've started to think Italians are the most quite part of this kind of people."
- WHAT DID IT HAPPENED IN SOUTH AMERICA?
"If you imagine an Italian awake for a week and drinking constancy, here they are the South-Americans."
- IT SEEMS YOU DON'T LIKE ENTHUSIASM…
" Yes, on the contrary I like it, but people forget how much this could fear. With 200 people running to you and screaming "I would give you my soul!" you can be afraid of this. We like it, especially during the shows, but when you do this kind of things you're always around and when you get off of the bus people try to tear off your head because they like you. We find this strange, that's because in general we don't live in this world because we don't enjoy with it. But it's funny to do something like this sometimes,
Thanks so much - Claudia Darpi for TRANSLATING.