June 1980 - Muziekkrant OOR (Dutch) (Translation below)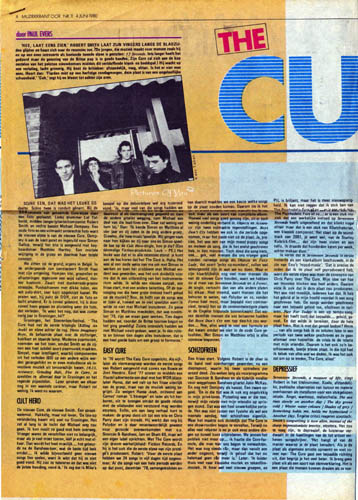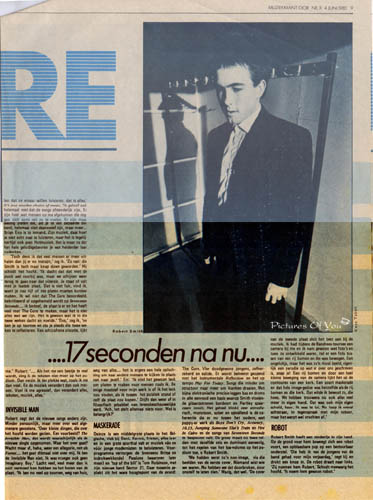 'Show me', says Robert Smith and he flips the pages to seek the reviews. (It's the boy who makes music for people like himself. They just made an interesting, but introvert second album called 17 Seconds. It has taken some time, but they cure the British music scene. They soon will be taking the lead of the newcomers with this amazing music). He waits for a translation and smiles fiercely. He knows what the critics say: distant, faint and elitist. He doesn't agree with it. Then he hears: 'fragments of fog on a Sunday morning in the autumn, this record has an incredible beauty to it.' He blushes.
Scene one was fun, scene two was very embarrassing. The 'OOR'-review of the last album contained a picture of the Cure: on the left drummer Lol, in the middle singer/guitarist/composer Robert and on the right bassist Michael Dempsey. It's a mistake to put this old picture in the magazine, because the new album is made by a new Cure. Dempsey has been dumped and replaced by Simon Gallup and the trio has a new member Mathieu Hartley on keyboard. It's a crucial change for the group because it changes their entire concept. We're sitting outside in Belgium. Smith is in contrast with the sun. Chunks of clay, grass and a fence are in contrast with the dark costume. It's black with dark red-green stripes. He wears punk shoes with thick soles, a white polo-shirt and very short hair. We talk a bit. He picks up the OOR, looks at the picture and smiles scornfully. A lot of things happened since that picture was taken. For him a lot of things happened and now he's looking at that picture again. 'I remember this one; it was Groningen last year, wasn't it?' Groningen, the Sterrenbos-festival. The Cure had just made their first hit single (Killing an Arab) and an album Three Imaginary Boys; the famous album cover with the vacuum cleaner, the fridge and the lamp. We called it modern pop music because Smith and his band made a very different subtle kind of music. Simple, but intelligent. Music in which composers of the past (60) were arranged in a specific kind of order creating melodious and inventive music. 10.15, Accuracy, Grinding Halt, Fire in Cairo. While it was raining in Groningen, they played all these songs. Later on we talked in a shaky trailer. He said little. Now I know why.
CULT HERO
A new Cult Hero, a new Smith. He talks a lot; stumbles over his words, but he's very animated. 'The line-up changed quickly after Groningen. We could feel it coming for a long time that Michael would leave. He and I never got along very well. In the past it didn't really mattered that we were different, but when you are on tour, you're living together. It becomes very difficult … It happened after the Banshee-tour which seemed like the best time because … I didn't want to play any of the new songs; because I knew he didn't like them. He would have put up with it, but that wasn't the right attitude'. I keep saying that Mike's bass was very typical on the debut album. 'Yes, a lot of those songs had been played with four people. When the other guitarist left, Michael took a part of the lead-lines on him. It was very little of himself'. He continues: 'I knew Michael and Simon for four years. They were the only other band in Crawley that played 'new music'. We went to their concerts and they came to ours. Simon played bass on the new Cult Hero single. (It's a good one-off Fiction production). It was very nice that all the reviews said: 'you can hear at the bass that it's the new Cure single'. He laughs. It was an old wish to work with Simon and when the problem with Michael became clear, it also became clear that I wanted to have more instruments. I wanted to have a new approach, a new start, with a different line-up'. Did the two extra members have a big influence on the music? 'Well, most songs were already there, but I just didn't want to play them with Michael. As soon as Simon and Mathieu joined, which was November 1979, we started working on the new songs. We had ten days before the British tour began, and it worked great. We've never done anything this intense with Michael. Being in one room, for ten days and studying all these songs is a good way to form a band'.
EASY CURE
In 1976 Easy Cure is formed first with five members, later with four. They play Roberts first songs and covers of Bowie and Jimi Hendrix. At the end of 1977, thanks to a (very wrong) ad, they get a record deal with MOR / disco label Hansa. Hansa is impressed with their looks, but doesn't understand the music. They refuse to produce Killing an Arab (based on l'Etranger by Camus) because they won't risk damaging the relationship with the oil producing countries. Later on it will become a hit. To cut a long story short: the group becomes a trio and Chris Parry shows up. At that point he's still working at Polydor where he signed contracts with Siouxsie and the Banshees, Jam and Sham 69, but he wants to set up his own label. Together with the Cure his dream becomes real: Fiction Records is born. He's also the first to produce the albums of his protégés. Robert says:' For the first album we recorded 24 songs in five days. All the songs from a long period were put together in December 1978 and we made the choice which songs we're going to be on the album. That's why I consider it to be a compilation album. Although a lot of the songs are good, there's very little coherence between the songs. Objects and Accuracy are two opposites. We recorded Boys Don't Cry at the same period, but it didn't fit the album. It was one of the most poppy songs and at the same time the one I had written the quickest: it was finished in ten minutes. But it didn't mean anything … It's funny, a lot of people who liked us because of songs like Object of Foxy Lady, the kind of jerky-up numbers, will be disappointed in what we do. But apparently there are even more people who like the new Cure, because we sold more copies of Seventeen Seconds and the single A Forest, than all the other albums together. That's very strange, because people who are familiar with the music business, like the people at Polydor, liked the song, but they didn't think it was a commercial song. And still it entered the British charts at number 27. Those were the same people who said that Boys don't Cry would be a top ten hit single. It just became some sort of formula because we didn't believe in the Cure anymore. With Simon and Mathieu it all started again'.
SCHIZOPHFRENIC
A fresh start. Robert says that the atmosphere in the band is much more candid after they reached rock bottom in which he was doing two shows every evening. Six weeks they were the supporting act for Siouxsie and the Banshees and he was a standing for the Banshees bassist John McKay who had left. And they still had Dempsey as a bassist in the band. It was a difficult task. 'At that time I was very unhappy about my personal life. We had to go on a tour, while the relationship with my girlfriend was collapsing. It felt like a very 'unreal' period. It wasn't difficult physically, but mentally and very schizophrenic. But it also meant that the Cure got a certain routine at giving shows. While now, things are more relaxed, we can try new things on stage. We stopped badgering the public …I hated the 'Cure-formula', people were expecting nothing more. It was still R&R but from a different point of view. Now, I believe it isn't R&R'. Later he says: 'At home I listen to classical music a lot and cartoon music, I hear a lot of new bands and PIL is brilliant. But it's more a sort of curiosity. I can't say that I really like the Psychedelic Furs or anything like that … there's one piece of music that had a big influence on Seventeen Seconds, it's sounds rather elitist, but it's a piece by Khatchaturian, a classical composer. It's on the soundtrack of 2001, you know, by Stanley Kubrick … it's two violins and a cello, I played it continuously hundred times a week'.
I tell him that I consider Seventeen Seconds like Eno's 'mood-music'; it's a 'sound-album'. 'That's also the reason why I produced it myself, because the first was too much Chris Parry's of the Cure. My idea on how we should sound was very different. That's why I demanded to produce it myself. Anybody can do it. I already got the sound in my head, before I start writing the music. The songs were written with a certain sound in mind; although they are different. Play for today has a very upbeat tempo, but still it has this certain … sound and feeling. And that's what I wanted to achieve on the whole album. What I mean with this feeling? All the lyrics were written in the course of two weeks and they are all about the same topic: the crisis in the relationship with my girlfriend. That's why it's a contemplative and sad album. During that period I was sick of everything we were doing. I got tired of giving shows, The Cure, everything!'
DEPRESSED
'Seventeen Seconds a measure of life', sings Robert in the title song. Cold, distant, poetic observations of nature and matter dominate the album. They are metaphors for an ending relationship. Fear, despair, melancholy. The sun rises slowly on another day / the sky grows cold / winter water colours / shades of grey / something holds me, holds me hypnotized – Another Day. English critics are sceptic: Smith's song writing is now alien instead of the sharp impressionistic brevity etcetera. It's to faint, depressing. The public loses itself in the torments of the songwriter who has become an artist. 'It depends on how you look at the album. If you look at it from an emotional point of view and not the Cure is taking a step in a certain direction, you can understand it better. I don't make a record as some sort of explanation. It's a record people can listen to when they feel like listening to it. That's all. It's just another choice of music. I believe that a lot of songs are not faint. A lot of people came up to me and told me that that's the way the felt. There are a lot of records which are not depressing; when you are in a certain kind of mood, but much more … Brian Eno is like that. You don't have to listen to his music, but at the same time it's not bad music. It's as if all the sounds make you think more clear. I tell him: 'that a lot of people gain more from the album than he puts in it. Thinking: Smith has become pretty down'. He shakes his head. 'I thought it was over with punk, but with seem to be going to extremes again. You make or break it with your last album. It's not fair. You should make five or six albums. I don't want the Cure to be judged, critised, or praised because of Seventeen Seconds. I mean the record's there and it has a lot to do with the Cure, but it doesn't stand for everything we are. It's just what I thought and felt in those two weeks'. So I ask him: 'you're on tour now and you're reflecting about those two weeks. It seems like a schizophrenic situation to me'. Robert answers: '… sometimes it's all too much for me, than I stop singing the lyrics and I just sing whatever I feel at that time. And the music changes with it. If I feel aggressive everything changes: music, lyrics, everything.
INVISIBLE MAN
Robert says the new songs are different. Less personal, more about general feelings. 'Sometimes they're about small things that people don't see'. An example? 'The Invisible Man, which is probably the new single'. What's it about? 'Wait and see, it's another allegory like A Forest .. This time it's not about me. I'm not the Invisible Man, nor have I been the Imaginary Boy'. He laughs much more than I ever would have thought after making such a record. 'I'm a lot on tour now, away from home, away from everything ... it's a relief to look at other people instead of oneself'. He continues: 'I like making records for people like me. The only criterion is: would I like it if I was standing in the public or would I buy the album?'. Then the conversation drifts of and he becomes philosophical: 'oh well, it doesn't matter, what is important anyway?'.
MASQUERADE
Deinze is a middle-sized place in Belgium, close to Gent. It has a fair, fries, everything. In a large sport centre you can listen to music from and by young modernists. The supporting acts are The Passion (an impressive British band, whom we'll talk about later) and top of the bill is Tom Robinson with his new band Sector 27. Stuck between those two is the highlight of the evening: The Cure. Four normal boys, self-assured and solid. They start the show with the controlled A Reflection and the upbeat Play for Today. Songs that revolve around sounds, not structure. Bass and drums play, with an almost electronical precision, a basis on which Smith plays guitar and Hartley complements. It sounds very atmospherically, monotone and sober. The coherence between older, poppier songs like Boys Don't Cry, Accuracy, 10.15, Jumping someone else's train, Fire in Cairo and the songs from Seventeen Seconds is striking.
The band mows two fields with the same skite. Robert Smith is very dominant; he even controls the volume of the bass on stage. 'At first, we had this non-image, because of the images from the first cover. Nobody knew us. We've overcome that and showed ourselves. A bit blurry, but still, we showed ourselves. The cover of the second album corresponds with the music. During the Banshees-tour I had a camera with me. I took pictures and after they were developed one of them showed a row of trees, but the camera had moved while the picture was taken. It was an accident, but it gave a very beautiful image. It was like a travesty on everything that was written about us. It's a row of trees, but because of the moving camera, it looks like the shape of a church. It's a sort of masquerade and the whole image-thing was the same as the row of trees and the church. I deliberately chose the cover to be like that. Right now, we control everything ourselves. It was my own fault; I was too lazy, now I get on top of things, it's against my nature, but it works'.
ROBOT
Robert Smith holds a little transmitter in his hand. On the ground a robot moves. It's an inflatable doll on a controllable chassis. 'The guys in the band gave me this for my birthday', he says. He presses a button and the doll turns left. 'They call it Robert'. He shakes his head pitying. 'But I call him robot'.
A very BIG THANKS to: ANKE for the TRANSLATION.