12/16/1978 - NME (UK)
Ain't No Blues for the Summertime Cure
Interview / By: Adrian Thrills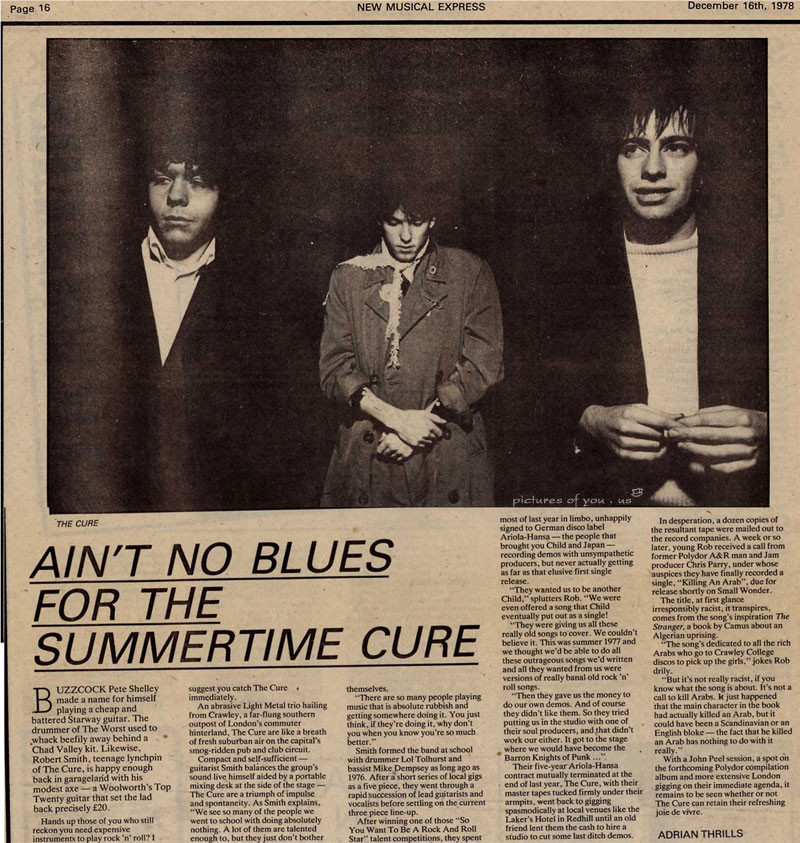 12/16/1978 New Musical Express
Ain't No Blues For The Summertime Cure

Buzzcock Pete Shelley made a name for himself playing a cheap and battered Starway guitar. The drummer of The Worst used to whack beefily away behind a Chad Valley kit. Likewise, Robert Smith, teenage lynchpin of The Cure, is happy enough back in garageland with his modest axe – a Woolworth's Top Twenty guitar that set the lad back precisely £20.

Hands up those of you who still reckon you need expensive instruments to play rock 'n' roll? I suggest you catch The Cure immediately.

An abrasive Light Metal trio haling from Crawley, a far-flung southern outpost of London's commuter hinterland, The Cure are like a breath of fresh suburban air on the capital's smog-ridden pub and club circuit.

Compact and self-sufficient, guitarist Smith balances the group's sound live himself aided by a portable mixing desk at the side of the stage, The Cure are a triumph of impulse and spontaneity. As Smith explains, "We see so many of the people we went to school with doing absolutely nothing. A lot of them are talented enough to, but they just don't bother themselves."

"There are so many people playing music that is absolute rubbish and getting somewhere doing it. You just think, if they're doing it, why don't you when you know you're so much better."

Smith formed the band at school with drummer Lol Tolhurst and bassist Mike Dempsey as long ago as 1976. After a short series of local gigs as a five piece, they went through a rapid succession of lead guitarists and vocalists before settling on the current three piece line-up.

After winning one of those "So You Want To Be A Rock And Roll Star" talent competitions, they spent most of last year in limbo, unhappily signed to German disco label Ariola-Hansa, the people that brought you Child and Japan, recording demos with unsympathetic producers, but never actually getting as far as that elusive first single release.

"They wanted us to be another Child, " splutters Rob. "We were even offered a song that Child eventually put out as a single!"

"They were giving us all these really old songs to cover. We couldn't believe it. This was summer 1977 and we thought we'd be able to do all these outrageous songs we'd written and all they wanted from us were versions of really banal old rock 'n' roll songs."

"Then they gave us the money to do our own demos. And of course they didn't like them. So they tried putting us into the studio with one of their soul producers, and that didn't work out either. It got to the stage where we would have become the Barron Knights of Punk…"

Their five-year Ariola-Hansa contract mutually terminated at the end of last year. The Cure, with their master tapes tucked firmly under their armpits, went back to gigging spasmodically at local venues like the Laker's Hotel in Redhill until an old friend lent them the cash to hire a studio to cut some last ditch demos.

In desperation, a dozen copies of the resultant tape were mailed out to the record companies. A week or so later, young Rob received a call from former Polydor A&R man and Jam producer Chris Parry, under whose auspices they have finally recorded a single, "Killing An Arab", due for release shortly on Small Wonder.

The title, at first glance irresponsibly racist, it transpires, comes from the song's inspiration The Stranger, a book by Camus about an Algerian uprising.

"The song's dedicated to all the rich Arabs who go to Crawley College discos to pick up the girls." jokes Rob drily.

"But it's not really racist, if you know what the song is about. It's not a call to kill Arabs. It just happened that the main character in the book had actually killed an Arab, but it could have been a Scandanavian or an English bloke, the fact that he killed an Arab has nothing to do with it really."

With a John Peel session, a spot on the forthcoming Polydor compilation album and more extensive London gigging on their immediate agenda, it remains to be seen whether or not The Cure can retain their refreshing joie de vivre.
- Adrian Thrills