September 6th, 2004 - Mexico City "Excelsior" Newspaper (Mexico)* (Translation below)
3 hours of concert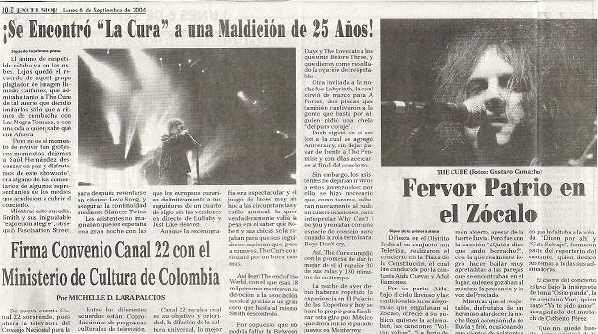 "The Cure" for a 25 year old curse was found!
Finally the moment had come. Before 18 thousand people, the band which set the messed up hair, black clothes, black eyed makeup and red lipstick trend, would confront the mexican audience who would feel what real glam-goth rock is all about. The cure broke the spell with a 3 hour concert.
Sports palace in Mexico City was the venue to listen, last Saturday, to one of the bands who due to schedule problems and fear of flying couldn´t come to "the worlds largest city", but who now was determined to pay the 25 year old debt with interests live and direct.
Minutes after 8 pm Robert and the band, Simon Gallup (bass), Perry Bamonte (guitar), Jason Cooper (drums) and Roger O´Donnell (keyboards) jumped on stage to start off the concert with "lost" at the same time fans yelled "tThe Cure!..the cure!". Then a gift by Smith: "Fascination street", next a classic: "lovesong" followed by "siamese twins". Fans didn´t expect to finally be cured by the live versions of "lullaby" and "just like heaven". A great stage and awesome lights couldn´t hide the fact that the band was giving its best to let their Mexican fans know there will be The Cure for a while. Then came "the end of the world" sung along by the 18 thousand fans, "inbetween days", "lovecats" and "before three" couldn´t miss to tonights concert of course. Another guest for the night was "labyrinth" which served as frame for "a forest". "Push" followed the setlist then "anniversary" was added without leaving behind "the promise" which announced the ending of the concert.
Fans wouldn´t let go of the band that easy, four encores were necessary to perform "why cant i be you" and to finally and sadly say goodbye with "boys don't cry". This way The cure kept their promise to give their best on stage by giving away 30 songs and 180 minutes of their time.
- Translated and submitted by Conrado
Thanks so much Conrado for sending this in!!