February 2004 - Q (UK)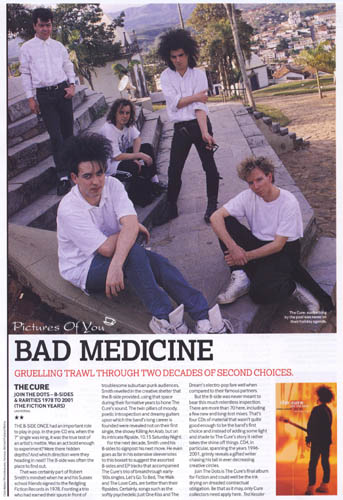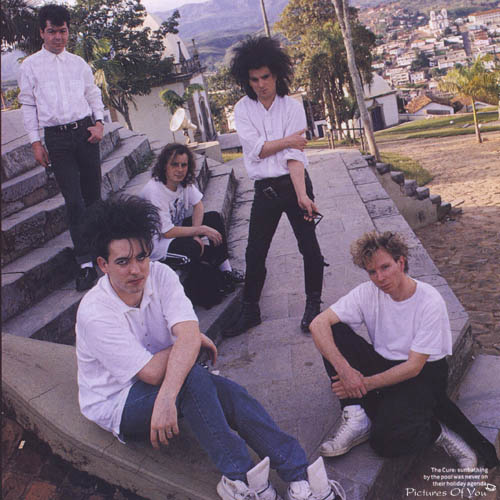 (Cover)
BAD MEDICINE
GRUELLING TRAWL THROUGH TWO DECADES OF SECOND CHOICES
The Cure
Join The Dots - B-Sides & Rarities 1978 - 2001
(The Fiction Years)
** (Rating: 2 stars out of a possible 5)
The B-side once had an important role to play in pop. In the pre-CD era, when the 7" single was king, it was
the true test of an artist's mettle. Was an act bold enough to experiment? Were there hidden depths? And
which direction were they heading in next? The B-side was often the place to find out.
That was certainly part of Robert Smith's mindset when he and his Sussex school friends signed into the
fledgling Fiction Records in 1978. Fronting a trio who had earned their spurs in front of troublesome suburban
punk audiences, Smith revelled in the creative shelter that the B-side provided, using that space during their
formative years the hone The Cure's sound. The twin pillars of moody, introspection and dreamy guitars upon
which the band's long career is founded were revealed not on their first single, the showy Killing An Arab, but
on its intricate flip-side, 10.15 Saturday Night.
For the next decade, Smith used his B-sides to signpost his next move. He even goes as far in his extensive
sleeve notes to this box-set to suggest the assorted B-sides and EP tracks that accompanied The Cure's trio of
breakthrough early '80s singles, Lets Go To Bed, The Walk and The Love Cats, are better than their flipsides.
Certainly, songs such as the softly psychedelic Just One Kiss and The Dream's electro-pop fare well when
compared to their famous partners.
But the B-side was never meant to bear this much relentless inspection. There are more than 70 here, including
a few new and long-lost mixes. That's four CD's of material that wasn't quite good enough to be the band's first
choice and instead of adding some light and shade the The Cure's story it rather takes the shine off things.
CD4, in particular, spanning the years 1996 - 2001, grimly reveals a gifted writer chasing his tail in ever
decreasing creative circles.
Join The Dots is The Cure's final album for Fiction and could well be the ink drying on dreaded contractual
obligation. But that as it may, only Cure collectors need apply here."
Thanks to Chain Of Flowers for the Text,,