August 2004 - Reforma Newspaper Morelia (Mexico) (Translation below)
THE BEST OF TOP MAGAZINE
Robert Smith's " top's"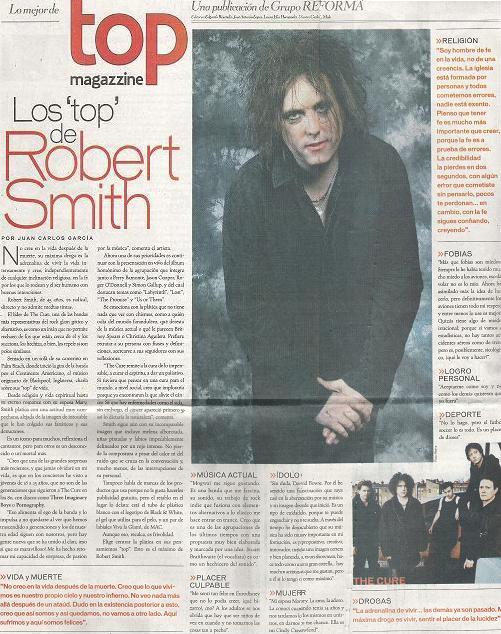 THE BEST OF TOP MAGAZINE
Robert Smith's " top's"
By Juan Carlos Garcia
He does not believe in life after death, his maximum drug is the adrenaline of living life intensely and believes, aside from any religious preference, in faith for those who surround him and in the well intended human being. Robert Smith, age 45, radical, direct and doesn't accept things half done.
The Cure's leader, one of the most representative glam goth and alternative rock bands, is like a magnet who won't allow rejection from those near him and sucks them in, casts a spell on them, or repels them if they're similar. Sitting on a couch in his Palm Beach (July 24, 2004) dressing room, where the bands U.S tour kicks off, the Blackpool England musician talks about his life's "top's". From religion and spiritual life to his eternal romance with wife Mary, Smith chats with a friendly mood, far from the untouchable image his fans and detractors have given him. An icon for many, the singer/author reflects, but for others a perfect stranger or just another mortal. "I think one of the most recent surprises, which I'll never forget, is that I've seen young 18 to 25 year olds that are not from generations who followed The Cure in the 80´s with discs like Three imaginary boys or pornography.
"That feeds the band's ego and motivates it not to stay behind seeing that we've gone beyond generations and people our age are still with us, but new people have joined in, that's just wonderful! It has made me retake my surprise capacity, my passion for music", says the artist.
Today one of his priorities is to continue with the live presentation of the self titled album from the band he forms with Perry Bamonte, Jason Cooper, Roger O'Donnell and Simon Gallup, and where songs like "labyrinth", "lost", "the promise" and "us or them" stand out. He's excited with our chat that has nothing to do with gossip, like one who hates show business, who dislikes today's music and Britney Spears or Christina Aguilera. He'd rather portray his own self with phrases and definitions and approach fans with his own reflections. "The Cure refers to a cure of the unthinkable, to cure the spirit, to alleviate. If I had to think of a cure for the world, on a social level, I think I would implore for a cure against cancer. I know diseases like aids exist, however, cancer was here first and that is how nature would dictate it", he comments.
Smith has still an incomparable image that includes messed up hair, polished nails and neatly colored lips with an intense red color. He does not lose composure even though it is really hot and noisy, none the less, staff interruptions.
He wont mention brands for the products he uses because he dislikes giving them free publicity, but the altarpiece nearby gives him away: there's a white tube with a "black & white" logo, the hair gel he uses, and a couple of "viva la glam!" lipsticks from MAC.
Even though that, he stresses, is triviality.
He'd rather focus the chat on his "top" thoughts. This is the maximum for Robert Smith.

>>LIFE AND DEATH
"I don't believe in life after death. What we live is our own heaven and hell. I don't see much more past a coffin. I doubt in the existence past this, I think this is how we are and we stay, we don't go anywhere else. Here we suffer and are happy."

>>MUSIC
"I still like Mogwai. I'm fascinated by this band, their sound, their indie rock work that combines alternative with classical elements, it makes me enter trance. I think it is a modern day band with a well elaborated proposal marked with an idea. Stuart Braithewait (vocalist) is like a sound sorcerer".

>>GUILTY PLEASURE
"I felt so happy in Euro Disney I couldn't believe it, how bizarre! Isn't it?, grown ups forget we have to be kids every now and then and not to take things so seriously".

>>IDOL
"Without a doubt, David Bowie, I've been fascinated by his music and image ever since he started. He's a guy to watch out for, because he'll hook you up and wont let go. Through time I've discovered his music is very important in my own growth, it proposes, its creative, innovative, he has a well planed image, he's a showman, does everything like a big star.. I like many artists but he's the maximum".

>>WOMEN
"My wife Mary. I love her, I adore her. I met her when I was 14 and we took a long time in coming together, giving us that chance, she's my Cindy Crawford"
>>DRUGS
"The adrenaline of living.. others are past now. My maximum drug is life, feeling the pleasure of
perceptiveness".
>>RELIGION
"Im a man of faith in life, not in a belief. Church is conformed of people and we all make mistakes. I think having faith is much more important than believing, faith is mistake proof. You lose credibility in two seconds, with a mistake you made without thinking, a few may forgive you.. with faith you can still trust and believe".
>>PHOBIAS
"More than phobias there fears. I've always been afraid of airplanes, flying isn't my thing. I've come to terms with it, but airplanes definitely have all my respect and the less I use them the better. Maybe its an irrational fear, If we look at statistics, there aren't as many plane accidents as train wrecks, but it is possibly psychological, what am I going to do ?".
>>PERSONAL ACHIEVEMENT
"Accepting myself for who I am not for what others wanted me to be".
>>SPORTS
"I don't practice it but soccer is everything, its a pleasure of gods".
-Translated and submitted by Conrado. Reforma Newspaper Morelia, Michoacan, Mexico. August 2004.
Thanks so much Conrado for sending this in!!