August 2003 - Les Inrockuptibles (France) (Translation below)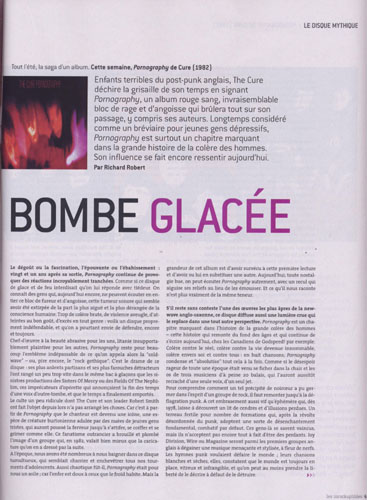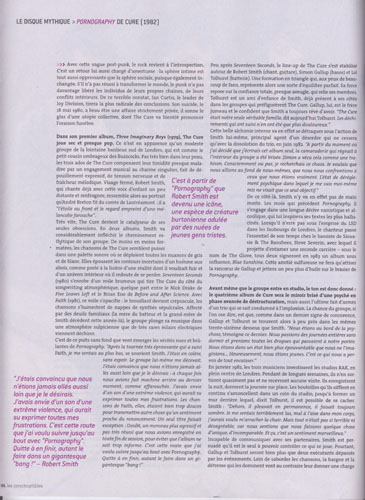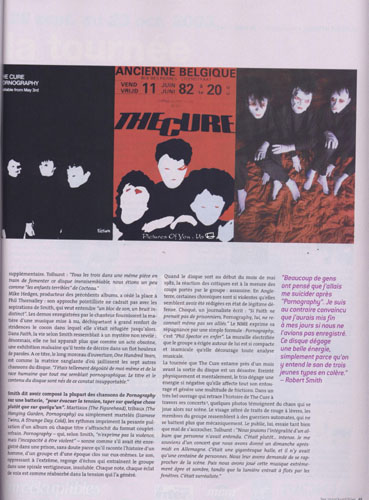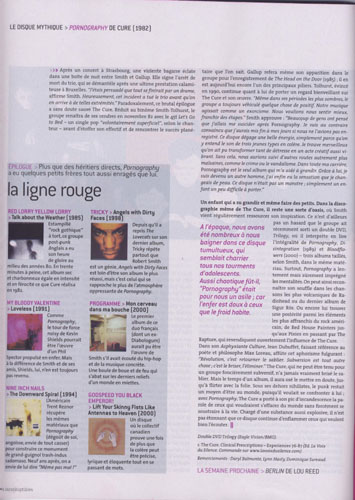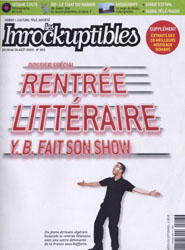 (Cover)
"Enfants terribles" of the British post-punk, The Cure tear apart the dullness of their time by adding to their name Pornography, a blood-red record, an incredible block of rage and anguish that will burn down anything in its path, including its authors. Long considered a breviary for depressive young people, Pornography is above all a key chapter in the history of human anger. Its influence still makes itself felt today.
Disgust or fascination, horror or astonishment: twenty-one years after its release, Pornography continues to elicit incredibly extreme reactions. As if this record of ice and fire would forbid that one would react mildly. We know people who, even today, can't listen in its entirety to this block of fury and anguish, this sonic tumor that seems to have been extirpated from the most cutting and the most deranged part of the human conscience. Too much raw anger, blind violence, attacks on good taste, excess of all kinds: here is a record, veritably undefendable, that yet we feel compelled to defend, again and always.
Masterpiece of abrasive beauty for some, unbearable plaitif litany for others, Pornography remains for many the unsurpassable emblem of what will since be called "cold-wave" - or, worse yet, "gothic rock". It is the drama of this record: its most ardent partisans and its most savage detractors have placed it a bit too quickly in the same basket with the sinister productions of Sisters Of Mercy or The Fields Of The Nephilium, these operetta imprecators who were announcing the end of time with voices from beyond the tomb, and whom time has finally taken away.
The slightly ridiculous cult that The Cure and its leader Robert Smith have been the object of since then hasn't helped. It was starting with Pornography that the singer has become an icon, a kind of Burtonian creature adulated by countless sad young people, who would push the fervor up to dressing, wearing their hair and make-up just like him. This extreme fanaticism has clouded and weighted down the image of a group that, in 1982, was so much more than the caricature that some will draw up of it.
At the time, many among us had dived into this tumultuous record that seemed to carry and entangle all our adolescent torments. As chaotic as it was, Pornography was for us a refuge; for an inferno is welcome to those haunted by cold. But the glory of this album is to have survived the first "reading" and to have been able to substitute it with another. Today, all nostalgia aside, one can listen to Pornography in a different way, with a distance that sharpens its landscape instead of flattening it. And what it tells us today is of a different substance.
While it remains uncontestable one of the harshest works of the Anglo-Saxon new wave, this record also gives off a raw light that places it in a different perspective altogether. Pornography is a key chapter in the history of the great human anger - this history that goes back to the depth of time and that continues to be written today, for example by the Canadians of Godspeed!. Anger towards reality, towards a life become unspeakable, anger towards oneself and everyone else: in eight songs, Pornography condenses and "absolutizes" all that at once. As if the raging despair of an era had come lodge itself into the flesh and bones of three musicians barely twenty years old, who would spit it out at once, with one voice.
To understand how such a concentrated darkness could take birth in the spirit of a rock band, we need to look as far back as the punk deflagration. This flare-up, as vivid as it was ephemeral, that since 1978 has left an open bed of ashes and lost illusions. A fertile ground for numerous formations that, after the disordered punk revolt, adopted a kind of fundamental disenchantment, combative by default. These people know they are defeated in advance, but haven't quite accepted yet to be losers. Joy Division, Wire or Magazine will be among the first British groups to create a new kind of music, menacing and stylized, touching raw nerves. Punk anthems wanted to dismantle the world; but for their part, their songs, desolate and dry, notice that the world is still in place, glassy cold and impassable, and that one can at least take the liberty to decry it if it cannot be destroyed.
With this post-punk wave, rock music returns to introspection. The return itself is full of bitterness: the personal sphere is just as oppressive as the social one, staying just as unchanged. If it didn't succeed in transforming the world, neither did punk free individuals of their own chains, their own internal conflicts. From this terrible observation, Ian Curtis, the leader of Joy Division, will draw the most radical conclusion. His suicide, on May 18, 1980, may well have been a strictly private affair, but it rang the final bell for a collective utopia that The Cure will soon pronounce the funeral oration for.
On its first album, Three Imaginary Boys (1979), The Cure plays sharp and almost pop. It is in appearance only a modest group from a far suburb south of London, something like a touchy little cousin of the Buzzcocks. Ill at ease in their own skin, the three teenagers of The Cure compensate for their almost pathological shyness through a musical work with a singular charm, made of an expressive minimalism, nervous tension and melodical freshness. His face drawn, Robert Smith, who is already singing with that voice of a child, a little distant and sullen, resembles the description that Andre Breton gave the count of Lautreamont: he has "the star on his forehead and the gaze full of a fierce melancholy".
Very quickly, The Cure becomes the catalyst for his only obsessions. Over two albums, Smith will considerably decide the aesthetic path of his band. Less and less well-formed, the songs of The Cure seem to inhabit a sonic palette comprising all the shades of grey and white. They take the uncertain shapes of a man at bay, as if poised at the edge of a reality he would like to run away from and an interior universe where he fears getting lost. Seventeen Seconds (1980) covers itself with a misty veil that aligns The Cure on the side of atmospheric songwriting, somewhere between Nick Drake's Five Leaves Left and Brian Eno's Before and After Science. With Faith (1981), the veil becomes opaque: the mist turns into twilight, the songs dampen themselves in layers of sepulchral synths. Affected by family deaths (the drummer's mother and Smith's grandmother having died that year), the group plunges its music into a sulpician atmosphere that only very rare lightning strikes tear apart.
It is from this bottomless pit that will emerge the naked and burning truths of Pornography. "After the very trying tour that followed Faith, I was feeling at my lowest," recalls Smith. "I was angry, without hope. The band itself was disappointing me. I was convinced that we had never gone as far as I wanted: every time we had backed off at the last moment, as if frightened. I wanted a sound of extreme violence, that could express all my frustrations. the songs on Faith were too gentle to transmit anything but a feeling close to giving up. Only one song made an exception: Doubt, a more aggressive and not very accomplished bit that we had recorded at the very end of the session, to keep the record from being too formless. It was this path that I wanted to follow until the end with Pornography. If we were to quit, might as well do it with a gigantic 'bang'!"
A short time after Seventeen Seconds, the line-up of The Cure had stabilized around Robert Smith (voice, guitar), Simon Gallup (bass) and Lol Tolhurst (drums). A triangle that, in the eyes of many fans, represented a kind of perfect equilibrium. Its force resided in the total trust, almost blind, that binds its members. Tolhurst is a childhood friend of Smith's, already present at his side in the bands that preceded The Cure. Gallup, for his part, is the twin brother and confidant that Smith has always dreamed of having. "The Cure was our only true family," says Tolhurst today. "That made the rifts that followed only more painful."
This beautiful internal alchemy will fall apart through the actions of Smith himself, principal agent of a disorder that will only stop with the dissolution of the trio in June 1982. "From the moment when I decided I was going to write this album by myself, the friendship that reigned within the group was broken. Simon took it as an act of treason. Consciously or not, I was looking for this chaos. I wanted us to go deep within ourselves, to confront what we really were. The state of physical deterioration I put myself in had only this objective."
For this, Smith didn't go empty handed. In the months preceding Pornography, he engaged in a long voyage of drugs and alcohol that will inspire his most hallucinatory lyrics. When he is not roaming the streets of London under the influence of LSD, the singer spends most of his time with Siouxsie & The Banshees bassist Steve Severin, with whom he makes plans for a second career - under the name of The Glove, the two will release in 1983 an album under influence, Blue Sunshine. This sulfurous friendship will only attract Gallup's resentment and throw more oil on the fire of Pornography.
Even before entering the studio, the tone is then given: the fourth album of The Cure will be the broken mirror of a psyche in an advanced state of destructuration, but also the last act of bravery from a trio that knows itself condemned to implode. The chance of the group, if one dared to call it that, is that, like a last sign of connivance, Gallup and Tolhurst find themselves almost in the same deep dark place as Smith. "We were on the border of psychosis," admits the last. "We spent days on end without sleep and took all the drugs we could get our hands on. We were in a much more terrible state than we imagined... Fortunately, we were young. That's what allowed us to get away with it."
In January 1982, the three musicians move into RAK studios, in the center of London. During long weeks, they will barely ever walk out and will not receive any visits. They record during the night, sleep during the day on the spot. The bottles they drink continuously amass into a corner of the studio, ending up into forming a wall behind which, says Tolhurst, you could hide. Smith: "Outside, it was raining all the time, it was always dark. I was feeling terribly weak, ill at ease in my body, I wanted to tear my flesh off. But it wasn't all so terrible or unpleasant, because we had a feeling that we were doing something unique, incomparable. And that is a wonderful feeling."
Incapable of communicating with his partners, Smith is convinced that he is the only one who can control the game. But Gallup and Tolhurst will be a lot more than two executants overwhelmed by events. Far from weighing down the songs, the aggressiveness and distress that dominate them will on the contrary give them an additional charge. Tolhurst: "All three of us in a room, on the way to creating this improbable record, we were a bit like Cocteau's 'les enfants terribles'."
Mike Hedges, the producer of the previous records, was replaced by Phil Thornalley: his perfectionist approach didn't go well with Smith's aspirations, who wanted to hear "a wall of sound, an indistinct noise." The demos recorded by the singer provide the substance for a music stripped naked, breaking with a great and strident effort through the cocoon it had taken refuge in until then. On Faith, life according to Smith resembled a non-revealed mystery; now, it only appeared to him as an obscene act, an insane exhibition that he tries to describe with a turbulent torrent of words. Looked at it as such, the long opening piece, One Hundred Years, is like a bloody matrix from which the other seven songs of the record burst out. "I was so disgusted with myself and the whole human race that everything looked pornographic to me. The title and the content of the record were born from this unbearable observation."
Smith says he wrote most of the songs on Pornography on drums, "to get the tension out, beating on something rather than on someone." Martial (The Figurehead), tribal (The Hanging Garden, Pornography) or simply hammered out (Siamese Twins, A Strange Day, Cold), the rhythms give the heavy pulsation to a record where every song breaks free of the verse-chorus format. Pornography - which, according to Smith, "doesn't express violence, but the incapacity of being violent" - sounds as if it had been recorded in a prison, undoubtedly because it tells the story of a man, a group and an era closed in on themselves. The sound, oppressive in the extreme, is full of echoes that catch the group in a vertiginous, inescapable spiral. Every note, every vocal burst is as if reabsorbed into the tension that generated it.
When the album is released at the beginning of May 1982, the reaction of the critics is on the measure of the blows carried by the group: murderous. In England, some reviews are so violent that they seem written in a state of self-defense. Shocked, a journalist writes: "If Faith took no prisoners, Pornography doesn't even recognize its allies." The NME expresses its revulsion through a simple statement: Pornography is "Phil Spector in hell." The electrified wall that the group has erected around itself is so compact and so unfriendly that it discourages any musical analysis.
The tour that The Cure embarks on almost one month before the release of the album is a disaster. Exhausted both physically and mentally, the trio emits such a negative energy that it affects its whole entourage and generates a countless fights. In a very beautiful work that retraces the history of The Cure through its concerts (* The Cure: Clinical Prescriptions - Experiences 76-87), a few photos stand witness to the chaos that reigned on stage. Faces slashed with traces of lipstick, the members of the group look like automated soldiers who can only go on fighting mechanically. The public tries, for better or worse, to hang on. Tolhurst: "We were playing the full length of a record that nobody had heard. It was rather... intense. I remember a concert we did on a Sunday afternoon in Germany. It was a huge hall, and there were only about one hundred people there. We had asked them to come closer to the stage. After that, we proceeded to play this extremely harsh and somber music, while the light were streaming in through the windows. It was surreal."
After a show in Strasbourg, a violent fight erupts in a bar between Smith and Gallup. It signs the death certificate of the trio, which falls apart after one last calamitous prestation in Brussels. "I was convinced it was going to end in a tragedy," says Smith. "Luckily, this incident killed the trio before we had arrived at such extremes." Paradoxically, this brutal epilogue has undoubtedly saved The Cure. Reduced to the Smith-Tolhurst duo, the group will be reborn from its ashes in November 1982 with the 45 Let's Go To Bed - a pop singles "voluntarily superficial", according to the singer - before filling its ranks and finding the global success we all know. Gallup will rejoin the group later for the recording of The Head On The Door (1985); he has been ever since then one of the main pillars of the group. Tolhurst, thrown out in 1990, continues to regard The Cure and its works well. "Even in the darkest periods, the group has always had something positive. Our music was acting like an exorcism. We wanted to feel better, to break through different stages." Smith approves: "Many people thought I was going to kill myself after Pornography. I am convinced, on the contrary, that I would have ended my life if we hadn't recorded it. This record gives off a beautiful energy, simply because you can hear three young people in anger. I find it wonderful that we could transform so much distress into a creative act as vibrant as this. Without it, we would have followed other paths, even more insane, like crime or vandalism. In my whole career, Pornography is the only record that helped me grow. Thanks to it, I became a different person, I finally had the feeling that I was changing my skin. This record wasn't a monster; just a child difficult to bear."
A child that grew up and even managed to have its own kids. Even in the Cure discography, it remains a sort of oasis, where Smith comes back regularly to replenish his inspiration. Besides, it is not a coincidence that the group has recently released a double DVD, Trilogy, where they performed live and in their entirety Pornography, Disintegration (1989) and Bloodflowers (2000) - three albums cut, according to Smith, of the same material. Above all, Pornography has slowly but surely impregnated mentalities. One can recognize its inspiration in the more volcanic songs by Radiohead or the latest Sigur Ros album. Or find it a place in posterity among the most liberated elements of American rock, from Red House Painters to the Pixies passing by The Rapture, who openly claim the influence of The Cure.
In Asphyxiating Culture, Jean Dubuffet, in a reference to the poet and philosopher Max Loreau, proclaims this dazzling aphorism: "Revolution means to turn the hourglass upside down. Subversion is an entirely different thing; it is to break it, to eliminate it." The Cure, not a thoroughly subversive group, has never really broken the hourglass. But for the length of an album, it has dared to throw it into doubt, up to flirting with madness. Under its nihilistic appearance, punk remained a way of living in the world, because it wanted to confront it; with Pornography, The Cure brought to its incandescent point the word of those who would like to disappear from the world without forcibly withdrawing from life. Charged with such an explosive substance, it is no wonder that this record continues to enflame those who want to listen to it.